Now you can setup your catering categories, organize the menu, and grab the link directly from the dashboard!
On the Hazlnut dashboard, click on Menu ≡ on the top right corner
Click on 'Settings' and go to 'Advanced Settings'
Make sure you're editing the correct location using the drop-down box in the top right corner
Click to expand the 'Miscellaneous' settings
Turn on the toggle 'Allow Catering?' so it is blue & click Save
Now, go to the Menu Management section to setup your catering menu
Click 'Modify' next to your catering Category
Make sure 'Is Catering?' is set to

YES

and that this category is set to Show Online
Here you can also edit your category to make sure it is perfect!
Remember to save your changes!
Item Availability:
★ Use this on larger catering platters that require 24 hours (next day) or 48 hours (after 2 days) notice. That way, you can guarantee all catering orders are placed far enough in advance.
From the Menu Items tab
Click 'Modify' next to your catering item
Change the 'availability' to require advanced notice or for items only available on certain days (everyday is the default)

This item will show on the menu 24/7
"After _ Days" will be the amount of notice required to prepare the order
The day availability will affect the available pickup day

Click 'Save'
All items with special day availability will be treated as catering and will print immediately
If items are added to the cart with different advanced notice setting, the soonest available "Ready At" time will respect the longest required notice.
If several items have different weekday availabilities, an error notification will appear to let them know there are conflicting items in the cart.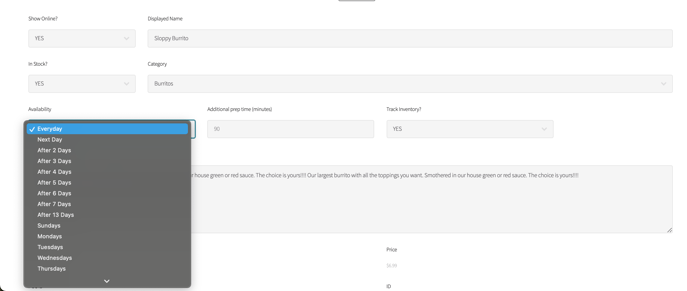 Recommended to add a disclaimer in the item description to reduce the number of customers who realize too late that their first available pickup day & time is affected by this item.
Catering Link & Button
Now, from the 'Locations' page you can grab your catering link and online ordering link to post to your website and share with your customers!
The catering button will automatically appear on the app once the catering categories are set to display online, 'Is Catering?' is turned on, and all available items inside these categories are set to show online.